MESSAGE
---
Dear Client,

I sincerely want to thank all of our current friends and customers for their continued support and trust that you have put in us. We are very aware that your image is in our hands and we take that charge seriously. And to our future customers, we look forward to working with you and your staff in creating a Display that, not only enriches your products, but creates good will among your future customers. Just as you value those whom you work for, so do we value those we work for, you.
Yours sincerely,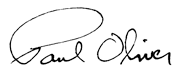 Paul Oliver
Oliver, Ross & Associates
5520 Pride Road | Richmond, VA 23224 | P.804.230.7280 | F.804.595.0177
Copyright © 2006 Oliver, Ross & Associates | All rights reserved.